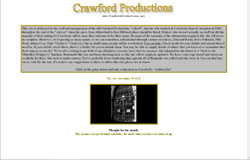 First website 2002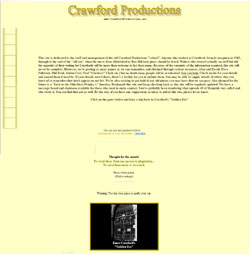 Website in 2004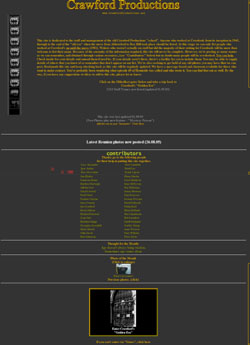 Website in 2005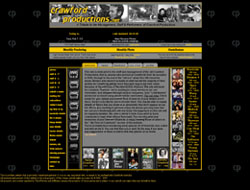 Website in 2007
Crawford Productions - Over 1500 management, staff and crew personnel have passed through the company doors over the years. Not to mention the thousands of actors, entertainers and freelancers who were employed to bring to Australian and world audiences, quality television, film and live entertainment.
This website was conceived and created to pay tribute to the company and all who made it what it had become; the most prominent and productive entity in Australian entertainment.
Lifelong friendships were forged. To work at Crawfords meant that if you wanted it, it became your second family.
Although Crawford Productions as it was no longer exists, it survives through a "spirit" that is instilled in all who passed through the company doors. It survives due to those people who visit this website and smile at the memories of what used to be. It survives because of the enormous contribution that so many have made to bring this website to life, by supplying the myriad of photos and personal documents saved from those halcyon days.
Although Crawford Productions has now evolved as Crawfords Australia, whose ownership and structure is far removed from the foundations of the original company, this website is a means of stepping back in time to those earlier days. This website that you are visiting is privately owned and operated and in no way tries to imply that it is officially connected to Crawfords Australia.
This site was first uploaded to the web on August 10th 2002. The idea behind it was to acknowledge a great company that was instrumental in not only providing jobs and training for Australians wanting to make their way in a new and exciting television industry, but to entertain Australians with Australian productions. There were too many memories for those great days to just fade in time and disappear. And so this website was born. It was very basic, very simple and only had a smattering of photos and memorabilia. However, it was quaint although quite primitive in a way. As more and more people found the website, it was only natural for it to keep evolving and expanding and, like all things technical, it must keep up with the latest technology to allow visitors a pleasant and easy viewing experience. We're very proud of the current incarnation, and hopefully, as an ex Crawford's person, you are too. It now boasts over 450 ex staff and others who have joined the mailing list
Because of the very nature of a website such as this, it can never reach the stage of being "finished". Every week, either by word of mouth, or by searching for names of people who worked at Crawfords, new people find this site. Some have photos or memorabilia from their time at Crawfords and are good enough to allow us to post the items on the website. We certainly welcome those contributions and all the time that people send in something new, we can never claim that the website is complete. That's the way we like it and hope that it always remains that way.
This website is always open to suggestions and ideas. If there is something that you would like to see on this site, or believe is missing or has been overlooked, please don't hesitate to make contact.
Thank you for visiting crawfordproductions.tv